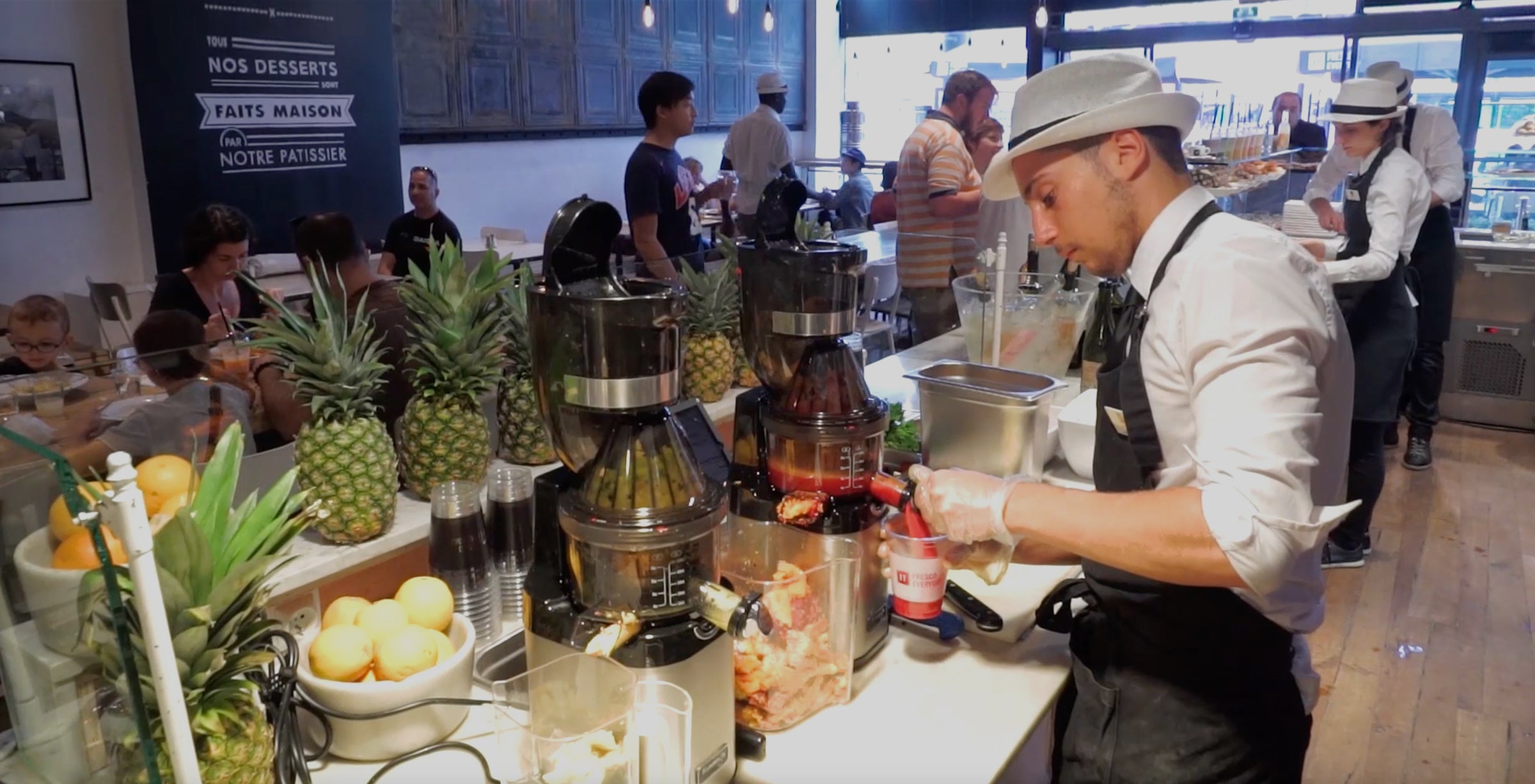 Professional juicer
Success story of a Kuvings customer
─────────────────
Restaurant IT Trattoria
in Paris, France
The topic of health is also becoming more and more important in gastronomy.

With Kuving's juicer, we hit the nerve of our customers to do something good for their health and at the same time to experience pleasure!
The Kuvings Chef CS600 in action
Slow juicers, which generate less heat due to the low rotation rate,
are gaining increasing attention as they offer one of the most effective ways to absorb nutrients from fruits and vegetables.
We have visited the restaurants and juice bars in France for you,
who serve juices directly on site with the Kuvings Chef CS600 and show you what it looks like to put a smile on customers' faces with the world's first industrial Whole Slow Juicer.
No to processed juices!
At the nature-based restaurant IT Trattora in Paris, France, the juices prepared by the CS600 are more popular than those already processed because they are pressed and served on-site from fresh fruit and vegetables.
A glass costs between €4.90 and €7.50 and is therefore not necessarily cheap, but customer satisfaction speaks for itself. The long lines show that customers are willing to pay for good quality.
The open kitchen
Guests see with their own eyes how their desired juice is made.
The service staff can fill in the fruit whole through the 88mm filling opening in the CS600 model. Therefore, making a juice through the juicer is faster than making an expresso!
The elegant and modern design of the Kuvings juicer visually enhances the place. In addition, since the juicer can run 24 hours a day, it can make juices all day long.
In addition, the easy cleaning and storage is particularly praised, which means that the guests' demand for freshly prepared juices can always be met.
He also makes a great contribution to maximizing the profit of the business!
We chose Kuvings Juicer for its efficiency.

We enter fruits and vegetables with minimal preparation.

The real benefit? We use fruit without slicing it first.

Apples or any other type of fruit. We put them directly into the juicer. This is an enormous time saver.

Restaurant IT Trattoria
A field report:
"Kuving's Slow Juicers are really effective tools.
We work with them all day long.
Here's an example: we ran this juicer around 12 to 13 hours a day - without a break - for several months."
Kuving's Professional Whole Slow Juicer Chef Series
CONTACT
Use this text to share information about your brand with your c . For inquiries, please fill out the contact form below and then email it to us. We will contact you as soon as possible. For all email inquiries please contact
Germany: info@kuvings.de
For inquiries from countries outside Germany, please contact us at the following address. Europe: eu-sales@kuvings.com
You can also reach us via our contact form.